Kontakt os
+45 42466800  |
|   Send en mail
Vores udvalg af batch blandere.
Fås som standard og atex
Mulighed for at flere produktindløb
Blandere fås fra 10 liter til 28.000 liter i arbejdskapacitet.
Suitable for the following production processes:
• Mixing of powders / granules / flakes / fibers / pastes
• Wetting of solids with one or more liquids
• Granulation by injecting a binding liquid
• Film coating by injecting a liquid on a powder and then adding a second powder
• Heating /cooling / temperature keeping
Main features
• Short mixing time
• Extremely high mixing quality
• Batches with repeatable results
• Mixing ratio 1/100.000
• Coefficient of variation (CV): ≤ 3 %
• Low maintenance
Declaration of conformity for contact with food according to regulations 1935/2004 EC and 2023/2006 EC
Declaration of conformity AtexII 1/3D Ex h IIIB T135°C Da/Dc (Inside Zone 20, Outside Zona 22)
Wolframcarboide coating on mixing tools
Side mounted high speed choppers / Homogenizers
Heat exchanger on mixing chamber for heating / cooling processes
Big bomb door on the whole length of the mixing chamber, to get an almost residue-free discharge in the shortest time
Predisposition for CIP cleaning system
Pneumatic cleaning of the mixing chamber  
Lip seal with air flushing
Different finishes of parts in contact with product available on request.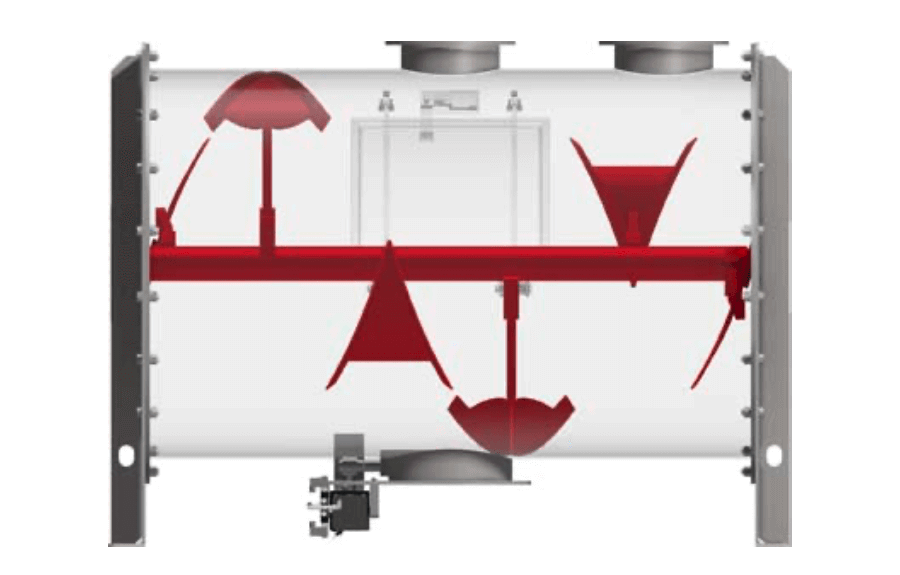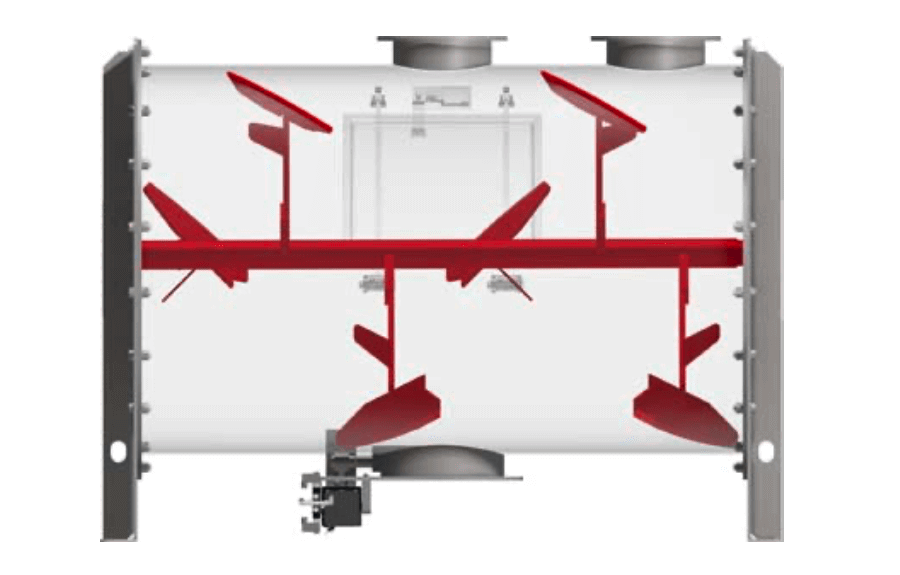 STD
ATEX
TYPE
ARBJEDSKAPACITET I LITER
A
B
C
Minimum
Maximum
N-
A-
MX.0075
10
65
750
710
510
N-
A-
MX.0150
20
125
1000
790
590
N-
A-
MX.0300
30
220
1000
950
770
N-
A-
MX.0420
50
330
1500
950
770
N-
A-
MX.0600
60
430
1250
1115
930
N-
A-
MX.0850
90
600
1750
1115
930
N-
A-
MX.1200
130
850
1750
1300
1090
STD
ATEX
TYPE
ARBJEDSKAPACITET I LITER
A
B
C
Minimum
Maximum
N-
A-
MX.1700
160
1100
2250
1300
1090
N-
A-
MX.2400
260
1750
2000
1660
1450
N-
A-
MX.3400
320
2200
2500
1660
1450
N-
A-
MX.4800
500
3400
2500
1990
1780
N-
A-
MX.7000
700
4800
2400
2420
2100
N-
A-
MX.9500
1000
7000
3500
2420
2100
STD
ATEX
TYPE
ARBEJDSKAPACITET I LITER
A
B
C
Minimum
Maximum
N-
A-
MX.H130
1300
9000
4500
2420
2100
N-
A-
MX.H160
1600
11000
4700
2580
2300
N-
A-
MX.H200
2000
13600
5000
2740
2460
N-
A-
MX.H260
2700
18000
5800
2900
2620
N-
A-
MX.H320
3300
22000
5500
2980
2940
N-
A-
MX.H400
4200
28000
7000
2980
2940