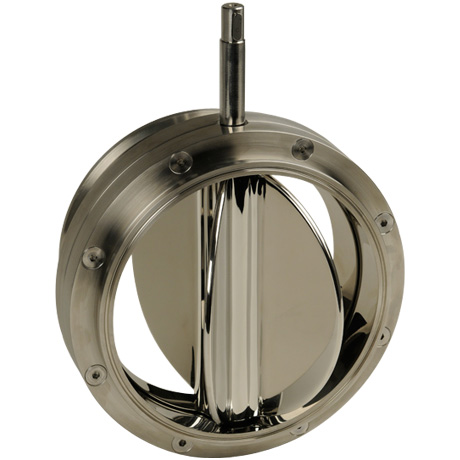 OYSTER™ FEEDER-VENTIL
I applikationer, hvor der kræves en høj gennemstrømningsvolumen, tilbyder vi Feeder-ventilen, som er designet til kontinuerlig dosering drevet af en elektrisk eller pneumatisk motor.
Det vigtigste kendetegn ved feeder-ventilen er, at der ikke er en hovedpakning mellem de to kropshalvdele (som ville blive beskadiget af den kontinuerlige rotation og kan risikere at kontaminere produktet), og at den sfæriske indvendige bearbejdning af ventilhuset efterlader et lille mellemrum mellem ventilhuset og spidserne af rotorbladene, så produktflowet kontrolleres på alle punkter af rotorens rotation.
Motordrevet gør det muligt for ventilen at arbejde ved væsentligt højere hastigheder end aktiverede ventiler, og hastigheden er kun begrænset af lommernes evne til at fylde og tømme korrekt, hvilket i høj grad afhænger af produktets beskaffenhed. Ventilen findes i to varianter, kendt som den symmetriske type og den asymmetriske type.
Den symmetriske feeder er strukturelt enklere og billigere at konstruere og vedligeholde, men den er ikke egnet til applikationer, hvor der kan være trykforskelle fra indersiden til ydersiden af ventilen. Den asymmetriske feeder er udstyret med alle de tætninger og o-ringe, der er nødvendige for at sikre, at den altid er tryktæt fra inderside til yderside, og den er derfor velegnet til vakuumsystemer eller applikationer med WIP eller lignende.
Alle Oyster-feederventiler leveres med en integreret motorstøtte, der dækker ventilens drivspindel, så der ikke er nogen synlige roterende dele, og som sikrer operatørens sikkerhed og ren drift.
Tekniske specifikationer

 //
Tekniske specifikationer (udvalg):